Basil, Sweet Basil, or Thai Basil, a common herb from the mint family, is sometimes known as St. Joseph's Wort for some unknown reason to me. Basil is far more appealing, don't you agree? As so many of our favorite herbs and spices, Basil originated in India over 5,000 years ago. It comes with a strong pungent smell that is often sweet in its nature, and considered by many to be the "King of Herbs".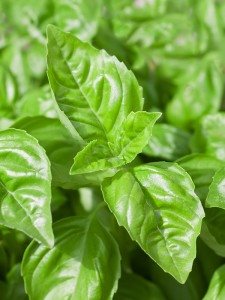 Used fresh and added at the last moment of a cooking recipe allows for the finest flavor to be garnered from Basil. Cooking destroys this herbs flavor quickly. Keep Basil in plastic bags in the refrigerator or freezer to aid in the length of time that it can be stored. Italian, Mediterranean, and Asian dishes are major users of this herb within their recipes.
In your garden include some Basil and you will be delighted with the fragrance it produces. If a garden is not possible then it grows well in a flower box or large pot. You can then pick your own and use it as you need it in your recipes. Experiment with this one and you will surprise yourself.
We like Basil on vegetables, in soups, spaghetti, chili, and most meat dishes. Like most things that are eaten, a preference by some is not appreciated by others. Nevertheless, give it a try and enjoy this herb to the fullest. After all, if it has been around for over 5,000 years and known by many as the "King of Herbs", how bad can it be?
If you decide to plant some, remember that Basil is not receptive to frost at all, so wait until those possibilities have passed. It is a fairly hearty plant so just give it enough water and sunlight to live and your dining pleasures will be enhanced.