Brunch is the combination of breakfast and lunch and originated in England during the 1800's. America took notice of this elegant treat and began serving it buffet style in the 1930's. Brunch is most often served late morning, however, it can run as late as 2:30 PM on Sundays. Champaign and Bloody Mary cocktails are not strangers at these delightful events. Over the years, "The Brunch" has grown into a festive and delectable feast. Many hotels and resorts throughout The United States boast of an unequalled Sunday Brunch.
These spectacular displays of food are clearly not limited to traditional breakfast and lunch menu items. Supper items and entrées are now routinely offered at the finer Sunday Brunch. They are almost always an all you can eat affair, with generally well over 100 selections from which to choose. You can select from donuts to oysters on the half shell. Eggs Benedict and Banana Splits are often available. Soups, salads, and smoked salmon will be offered most of the time. Let us not forget Beef, Pork, Seafood, vegetables and fruits galore. The American Brunch has turned into an "Event to Behold". Americans can't seem to get enough of the variety of food and elegance of location.
A Sunday Brunch serves the Saturday night party goers quite nicely. These party animals quite often consume more alcoholic beverages than they need and cut short the essential food that their bodies require. The brunch allows them to fulfill that need with something that they will surely enjoy. The next time you want to, or need to entertain family, friends, or business, consider a brunch. Seldom do people think of this treat and everyone enjoys them. Don't try to compete with the Resorts or Las Vegas. Offer your guests an elegant and wonderful selection of delicious food. Coastal Catering will help you select your offerings based upon your theme, event, location, and budget.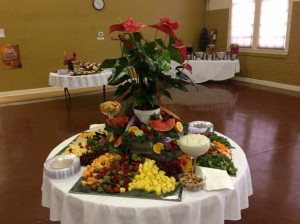 Just A Few Brunch Selectables: Brunch Image
Eggs Benedict

Shrimp Cocktail Shooters

Warm Apple Crisp

Yogurt & Berry Parfaits

Apricot Glazed Smoked Ham

Roast Beef with Horseradish Sauce

Coastal Shrimp Quiche

Southern Peach Cobbler

Maple French Toast Bake

Chicken & Sausage Gumbo
How many invitations to a delectable and devine private party brunch have you received? Very few is my guess. The next opportunity for you to host an event consider a brunch! You will stand out as unique and clever. Your friends, family, and business associates won't soon forget your event.