Buffet PictureBuffet style dining makes entertaining easy. Utilizing Coastal Catering's elegant Buffet service provides a greater selection for your guests to enjoy and appreciate. Entertaining can be stressful when considering the food service and selection. A Buffet can assist you in both of these important areas. Ever been to a banquet and noticed how much food was left on the plates. Folks were either served too much food, or something they didn't like. You don't want that to happen at your event do you? Coastal Catering has the answer for this situation. Offer your guests a delicious, and stylish Buffet. Each and every one is customized to fit your needs, desires, event, and budget.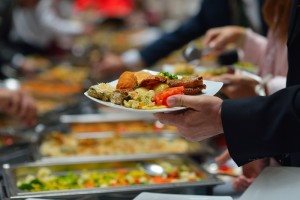 A Coastal Catering Buffet can be from simple and charming to elegant and extravagant. You decide and we will deliver. We have a vast array of Hors D'oeuvres from which to select. Entrée's are available for even the most discriminating host. We offer vegan and vegetarian entrées as well. Sides are important and Coastal Catering provides a huge selection. Breads and Salads are not to be overlooked. To some this is the most important part of the meal. Don't forget the dessert. We can offer a delicious dessert selection that doesn't necessarily come with an extra thousand calories. However, we have those too!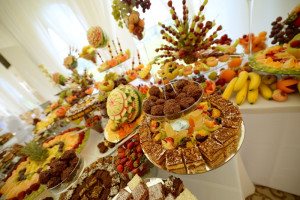 One of the beautiful things about a Coastal Catering Buffet is that your guests eat what they want, not what they are served. One person may want to sample everything. Another may have Hors D'oeuvres and salad. Still others will have entrées and sides. The combinations are endless. The point is, I can have what I want, and you can have what you want. The amount of wasted food and expense are both kept to a minimum. The enjoyment and pleasure for your guests is kept at a maximum. So, the next time you find yourself planning an event with food, consider a Coastal Catering Buffet. You certainly will not be disappointed.