Corporate Events can promote excellence within a company if done properly. Employees appreciate being appreciated by their employers. If you plan Corporate Events such as Christmas Parties, Summer Picnics, Training Seminars, Customer or Employee Appreciation, or New Product Launches, be sure to do it correctly. If you don't care enough to do it correctly, don't do it at all. What do I mean do it correctly?
Corporate Events Need;
Venue – Host your event at an appropriate location or venue. Selecting the wrong venue hurts your event before it begins. If invitees aren't looking forward to attending, you have already lost your opportunity to impress. Don't you want your attendees to be impressed with your event? If you said Yes, pick the correct venue.

Decorations and/or Theme – Be sure that your Corporate Events have the proper decorations. Not necessarily expensive, but proper for the venue and type of event. Decorations can provide the extra atmosphere that you want to make this a memorable event. Give your event a Theme. It will help with nearly every aspect of the planning.

Food – Here is where you can make or break your Corporate Events. Full Meal or Heavy Hors D'oeuvres, Cocktails or Beer & Wine only, Pre-Selected meal or Buffet. Obtain a professional opinion as a backup. Remember you want to impress these attendees. Food and Drinks are remembered long after Corporate Events end. Skimping here will cost you. Don't forget Vegetarians and Vegans!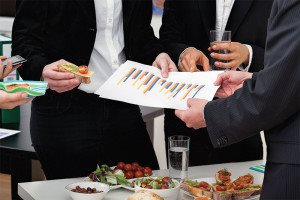 Corporate Events can rally companies to improve themselves. Employees take pride when they are involved in the planning of Corporate Events. Your dedication to the event will inspire your employees to give their Best, and Promote the Excellence that your company represents. Even if you are planning a staff only event, involve the employees. When you show them how important it is to be thorough. and pay attention to detail just for them, it will build spirit and teamwork. A caterer like Coastal Catering is very familiar with everything you need to draw upon. Don't forget to ask for advise regarding your needs for your next Corporate Event. Call us at 409.789.1119 for a FREE consultation.