Coastal Catering is an Epicurean Award Winner. We were awarded the most "Delectable & Divine" at the 2013 Galveston.com & Company Epicurean Evening!
We are very pleased and honored to be a 2013 Epicurean Award Winner. This annual evening event boasted of over 500 attendees with contestants numbering over 50. Galveston foodies and food entrepreneurs converge at the Epicurean Evening each year. The Galveston Restaurant Association presents and sponsors this fun and entertaining event. If you are not attending the Epicurean Evening you are missing out on one of the BEST things to do on Galveston Island.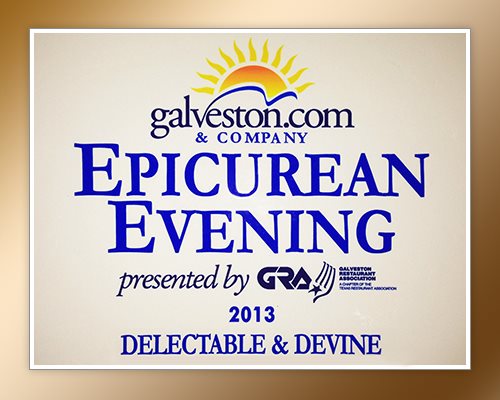 As an Epicurean Award Winner I can tell you it's as much fun to participate as it is to attend and enjoy. We use to attend for the fun and drinks and food. Not to mention, we know half the people at this evening night out. You will find beers, wines, and spirits. What a surprise! You will find appetizers and desserts. Fabulous food indeed. You will find main course treats and specialties. I'm telling you, its a must attend event. There are many categories for the "Epicurean Award Winner", so there is lot's to cheer for and taste.
Coastal Catering will selectively participate in this event as our schedule permits. You are keeping us pretty busy serving you with our delicious cuisine. We are also considering stretching out and participating with other Epicurean Event opportunities throughout Galveston County and the surrounding area. We will keep you advised of our activities so you can attend. We love to spend time with our clients in a fun setting. Eat, drink, and be merry! You may even taste one of our "entries" that you have not experienced yet. We like to prepare food for our family, friends, and clients. It's who we are and what we do!
It's also fun to be an Epicurean Award Winner too! We appreciate people enjoying the food that we prepare, especially when we are in a contest. Eating and competing at the same time. What great fun!