Your Wedding Reception should be a Blast. Invited guests will anticipate having fun. This is a time to celebrate one of the most sacred events, in which you will ever be involved. So . . . have a blast! Sing and dance, laugh and cry, eat and drink, and enjoy every second of this wonderful occasion. It will be over far too quickly. Take lots of pictures! Your memory may fade, however, the pictures will help remind you of what a great time you shared with family and friends.
Wedding Reception Highlights;
Venue – The venue will dictate what you can and can't do during your Wedding Reception. Things like confetti, rice, & birdseed will come into play. The Band, DJ, & Recorded Music will be things to consider with the rules and regulations of the venue. Then you have Beer, Wine, & Alcohol or Punch and Soft Drinks. The venue may certainly control this aspect as well. Don't forget the food service. Cake and Cookies, Heavy Hors'Deurves, or Full Dinner will need approval. The Venue will have a say in all of it. The size will do much of the decision making for you. It will limit the number of guests, the size of dance floor and sitting areas. Does it allow onsite cooking, or alcohol service? Is there ample parking? Is thWedding Reception imageere an outside cooling off area. Will noise be a problem? Is security required for large guest counts? Set up, Tear down, & Cleaning are not to be forgotten. The list goes on but there is much to consider. Some venues even require that you use their catering service, alcohol service, A/V equipment rental, and security. Check out everything and read the entire contract BEFORE you sign it.

Theme – This will set the atmosphere, which will be extremely important to the Bride. Check with your venue about decorations and the required tape, pins, & staples. Yes, they have rules on that too! Unlimited theme possibilities are available, so be adventurous. Remember to have a blast! Check with the venue to make sure you are allowed to have YOUR type of Wedding Reception. If they won't approve your theme, which translates into "YOUR type of Wedding Reception", then move on to a venue that will!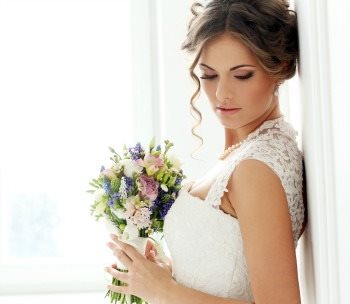 Food – So many choices are available within this category that you will probably need some help and recommendations. Don't feel bad, nearly everyone does. It's quite difficult planning something to eat for 150 different people. Light, heavy, seafood, or poultry . . . I'm already confused. Your caterer will be invaluable with this part of your process. He does this for a living. He has seen the BEST and WORST ideas of many Wedding Receptions before yours. You've been to a Wedding Reception eight times. He's been to a Wedding Reception One Hundred & Eight times.
There are many things to consider when hosting a Wedding Reception. At Coastal Catering, we not only will assist you with your food service but will be delighted to discuss the other parts of your Wedding Reception. We've worked all the venues, and listened to most of the Bands & DJ's. We have seen so many themes I am beginning to think Walt Disney is a distant relative. We have witnessed some of the most joyous and festive Wedding Receptions. We have also seen some that were not planned well, and therefore nearly a disaster.
Coastal Catering is not a Wedding Planner. However, if you want some advise about having a joyous and wonderful Wedding Reception make an appointment and we would be glad to assist you in what should be the happiest day of your life!